Looking for grooming or a doggie daycare? Our partners are experts at providing quality pet care services.
Camp Canine
Located on the Upper West Side of Manhattan at Columbus and 73rd, Camp Canine has been locally owned and operated since 2012 by Tania Isenstein. A lifelong animal lover, Tania had been a decade-long client of Camp Canine when she left her career as a lawyer on Wall Street to take ownership. She wanted to spend her days with the furry friends of her beloved Spaniel mix Mooshoo and create a full service dog care to help busy New Yorkers lead full lives while providing an extended family for their pooches. She knows all too well the balancing the demands of a career and caring for a fur child can be challenging. Tania can often be found working to make Camp Canine the best facility in NYC, with a sleeping dog or two on her desk and a smile on her face.
​
Camp Canine
46 W 73rd St
New York, NY 10023
Phone: 212-787-DOGS (3647)
Email:
Website:
New York Paw Pals
We are happy to announce a new partnership with NY Paw Pals, a fully insured dog walking and sitting service based in Queens! If you have adopted a dog from In Our Hands rescue, NY Paw Pals, you will receive 25% off of your first five walks, plus your first walk FREE! When you book your first walk with NY Paw Pals, just mention that you adopted from IOHR. You will need to provide paperwork as proof.
NY Paw Pals services Astoria, Flushing, Forest Hills, Greenpoint, Jackson Heights, Rego Park, Sunnyside, and Manhattan.
Phone: 718-424-1978
Website: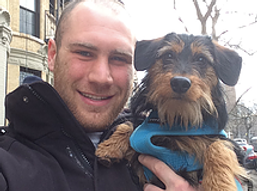 Aaron Littman Dog Walking
Aaron Littman, one of our fosters, offers dog walking, dog sitting, and dog boarding for dogs in Brooklyn and Manhattan. He has many years of experience working with animals, and will take wonderful care of your pooch while you are away, whether it is for the day or for a week!
Phone: 718-249-3409
Email:
Petco Grooming Services
Through our partnership with Petco, we are proud to offer you 25% off of your first grooming at the Turtle Bay Petco or the Lexington & 86th street Petco in Manhattan when you adopt from In Our Hands Rescue! When you bring your dog to be groomed, just bring the new adopter paperwork you receive when you adopt from us!
Turtle Bay Petco Website:
86th and Lexington Petco Website: